Ethernet over Coax > EL-006

E L-006 Ethernet Extender Over Coaxial Cable

The EL-006 is point-to-point EoCNA(Ethernet over Coax Network) solution that efficiently extends 10/100 Ethernet circuits to over 900 meters(2,952feet) at 112Mbps using existing coaxial wire. The EL-006 will allow Ethernet connectivity in existing facilities without pulling extra cable. This is perfect solution to Ethernet on the factory floor where systems have been upgraded from slower serial communication to Ethernet networking. Installation is easy with a single switch setting. One end is set for local and the other remote. The EL-006 is used in Coaxial wire to extend Ethernet connectivity over existing CCD/CATV grade Coaxial wire.

Key Features

High-Speed 160Mbps communications link over RG59 Coaxial Cable, Asymmetrical on EoCNA

112Mbps@ up to 900 meters(2,952feet), reach down to 32Mbps @ about 1.2Km 4,000 feet)

Operates transparent to high layer protocols such as TCP/IP

Auto-MDIX and Auto-sensing 10Base-T or 100Base-TX and Full or Half-Duplex on the Ethernet port

Plug and Play design for simple installation, single switch config

Status LEDs for simple monitoring of the device and connection status

Applications

Extend LAN connectivity to a remote site or between buildings

Connect Ethernet over the different Room over existing house's Coaxial infrastructure

Connect new controller technology on the factory floor using existing wiring

Extend Ethernet connectivity from a backbone network to an isolated location via Coaxial wire

Transmit Video and traffic controller information over existing Coaxial wire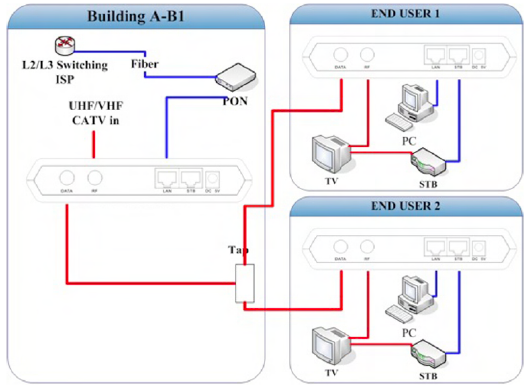 Technical Specifications
Network Standards

ITU G.9954,Ethernet Over Coaxial Network (EoCNA)

IEEE802.3 10BASE-T, 10Mbit/s

IEEE802.3u 100BASE-TX, Fast Ethernet at 100Mbit/s, Auto-negoatiaton

IEEE802.3x Full Duplex and Flow Control

IEEE802.1Q port-base VLANs and/or 802.1Q tag-based VLANs

IEEE802.1p Multi-Priority assignment, Defferential queue weight, Port-based and queue-based rate limitation

Multicast Applications: Support IGMPv1/v2 snooping.

Port Rate limit function
Protocol

Transparent to higher layer protocols
Connectors

Fast Ethernet:Two RJ45 Connectors

Coax:Two F-Type Female Coax Connectors,One for EoCNA,the other for TV
Transmission Power and Spectrum

8 +/-1 dBm

12-28 MHZ
Transmission Speed and Distance

Up to 112Mbps@900 meters

Up to 4000 Feet (-176dBm/Hz Noise Floor)
Fast Ethernet Interface

10/100 Mbps

MDI/MDI-X Auto Crossover
Quality of Service

Priority Base on IEEE802.1p and TCP/UDP port

Guaranteed QoS base on Layer II Parameterized QoS
Network Management

Diagnosis of EoCNA function

Secured/Isolated Communication between DEVs

Provision/Denial of Service
Indicators

"Power" LED

EoCNA Link/Act,SyncMode LED

LAN Link/Act LED, STB Link/Act LED
Environmental Conditions

Operating Temperature :0℃ ~ 50℃ (32℉ ~ 122℉)

Storage Temperature: -10℃ ~ 65℃ (14℉ ~ 149℉)

Operating Humidity:10% ~ 90%,Non-condensing
Power Requirement

External Power Supply:5V DC

Power Consumption:< 6 Watts
Physical Dimension

155mm(W) x 83mm(D) x 30mm(H)
Unit Weight

330 g
Emissions Compliance

FCC part 15 Class B, CE Mark

Ordering Information
EL-006M : Master of MDU/MTU
EL-006T : Target of MDU/MTU